Description
The Lake of a 1000 Islands Expedition
The Lake SUP Expedition
This tour is well planned to give you the best of nature, Swedish experiences, and time on and with the water. Our experienced guides will make adjustments to the exact itinerary to account for the prevailing weather conditions and group dynamics.  The below descriptions capture the essence of our expedition but may vary to accommodate conditions.
Free Yster SUP Expedition Dry Bag 60 - SUPdriven Expeditions Edition
Pack your belongings like a Pro.
An Yster SUP Expedition Dry Bag 60 – SUPdriven Expeditions Edition valued at 109 EUR is included in the expedition price. The 60 L waterproof bag will be mailed to you after your full payment has been received. Limitations for some locations may apply. This will help you gauge the amount of personal belongs you pack. Just leave a little room for your sleeping matress.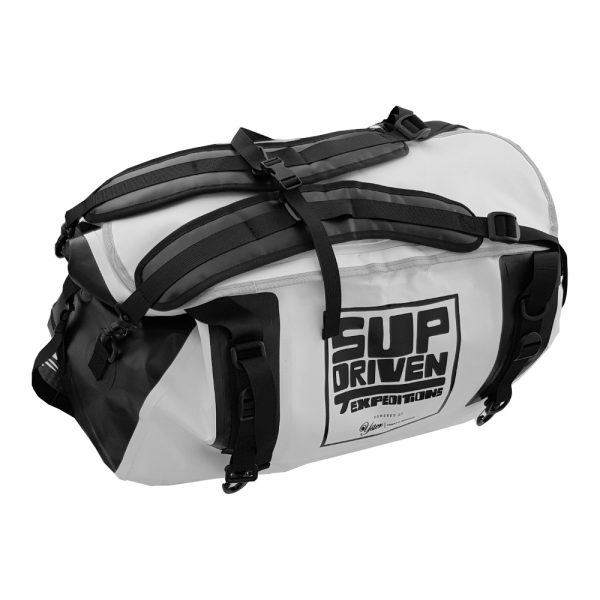 Itinerary
Day 1
This is one of the most exciting days as we all gather at the hotel and finally get to meet our new best friends. The Guides will be here to welcome you and you can settle into your room, chill out in the garden, take a walk in the small village or along the lake.  We will have our expedition briefing before dinner and then gather in the 1920's dining room for a delicious locally sourced dinner. After dinner the hotel's lounge bar lounge waits for you. 
Day 2
Finally launch day is here!  After a relaxed Scandinavian breakfast buffet at the hotel, it's time to walk a few minutes to the launch site.  We'll load our boards and finally get some water under our feet! The first day we take it easy, getting to know each other, our boards, and our group's rhythm.  We'll have a simple lunch along the way and set up camp at a beautiful spot with amazing sunset opportunities. 
Day 3
Today is magic. We paddle into Sweden's newest national park and begin losing ourselves amongst the inner archipelago.  With a thousand small islands there is a new view at every turn. Today we really take our time, enjoying the scenery, swimming, and lounging.  If we feel like it, we will pop into a café where we can sample traditional ostkaka (cheesecake) from this region of Sweden or something else delicious. We will set up camp at the end of the day, enjoying the fire and some well-deserved rest. 
Day 4
By the fourth day you will normally have developed a strong affection for your board.  We encourage you to find the name that suits just YOUR board. Swim opportunities and plenty of time on the water is the name of the game today! 
Day 5
Leaving the national park behind us we will paddle north! Today the guides might break out some surprises on the water. The wild camping spot at the end of the day is just SUP heaven and we'll enjoy ourselves around the campfire. 
Day 6
We leave this heavenly camp and suddenly enter a tropical paddle zone. Maybe you've been transported to an off shoot of the Amazon? Before you know it, we take a step back in time and pull up to our end destination.  Here we unload the boards and take extra care to separate our personal gear from the expedition gear. We hope everyone will join us for a delicious lunch in the amazing manor garden. Comfortable lounge chairs and well-prepared Swedish classics – it's never been so good! From here you can enjoy the exhibitions and history at Huseby Bruk and catch the bus back to Växjö for your homeward bound journey. 
Accomodation
Nature is our home; tents are our places to sleep.  Each person has their own two-person tent, meaning you have plenty of room to spread out and rummage through your belongings. Of course, couples or friends are welcome to share a tent if they want. Camping spots will be rustic, varying from wild camping to camps with some limited facilities. You'll get to use "the wooden shack with a heart in its door" or a simple toilet. Drinking water will be carried by the group, we'll refresh whenever possible. You will get to practice the Scandinavian tradition of summer bathing in the lake.  
The first night we gather, dine and sleep at a family run bed and breakfast from the 1920's. It's charming with a wonderful garden, traditional dining room, and bar lounge. Shared bedrooms give you a chance to start bonding with your new best friends. 
What's included
During the trip we supply the following:
Kick ass guides
SUP board: Yster ISUP 14'x 28" Linear. The ultimate touring board.
Paddle: Yster SUP Paddle Variable 3-piece Full Carbon Soft Flex 86
Leash: Yster SUP Leash 12'
Additional luggage straps
PFD: Baltic iFloat SUP Buoyancy Aid
SUPdriven Individual tent, 2-3 person size with 3000 mm water column. The tent is large for two persons.
Inflatable insulated mattress. *Bring your own sleeping bag suitable to around 5C*
Yster SUP Expedition Dry Bag 60 – SUPdriven Expeditions Edition for your expedition gear to keep.
Cooking gear
Spade – for, you know…
Meals
Unlimited coffee and tea, drinking water.
Photo documentation of unforgettable memories.
What's not included?
The following items are not included:
Transportation to/from our start and end points.
Personal belongings – we will email our recommended packing list.
Sleeping bag and pillow
Waterproof day pack for your snacks, change of clothes, phone, etc.
Lunch on some of the days – we give you the possibility of tasting Swedish delicacies in a variety of café settings.  A nice mid-day break!
Snacks – our experience is that people are happiest meeting their own snacking needs.
Alcohol – If you want to bring something to drink we remind you that Sweden strictly regulates the sale of alcohol, and you can only buy it in government owned stores. Meaning if you want to bring something with you don't leave it to the last minute! On www.systembolaget.se you can find a store near you or alternatively you can buy something in duty free.
Getting here and away
This is a point-to-point expedition, meaning we start in one location and end at another.  For travel planning you can consider that you need to get to and from Växjö as the middle point. Växjö is easily reached by fast train from the major cities of Stockholm, Malmö and Gothenburg. Train schedule at www.sj.se. Växjö station is right in the city center so plenty of options for a toilet /coffee break or to get anything you forgot. There are locker options for excess luggage. It's also a cute little Swedish town if you want to spend an additional night here.
You will take a bus from Växjö to our starting point in Urshult. From the bus stop in Urshult it is a 10 minutes and a short walk to the B&B hotel where you'll meet your fellow expedition friends. We encourage you to arrive by 5pm at the latest so that you have time to settle in, attend the briefing, and have dinner with your expedition friends!
Our ending point is at the lovely Huseby Bruk. This historical site has been important from the Viking age until the late 1800's and presents a memorable end to our expedition. We finish around lunch time on the last day. We end at a wonderful historical site where we have the option to eat one last delicious lunch together in a café and explore the exhibitions – so factor some extra time into your onward journey planning. From Husaby you can take the bus to Växjö Train Station where there are frequent trains to the major cities of Stockholm, Malmö, Gothenburg and Copenhagen.
Requirements
Our Lake Expedition requires a basic level of fitness and established SUP skills.  You need to be comfortable paddling 10-17kms a day and being on your board for 3-5 hours a day. We expect you to be able to maneuver your 14' board easily, to be able to paddle into a headwind (perhaps on your knees) and to be able to self-rescue if you fall off. Read about the full requirements here.