Description
Sweden's Longest River SUP Expedition
The River SUP Expedition
Ready to explore waterfalls, wild camp, and step into the wilderness? Keep reading! The below descriptions capture the essence of our expedition but may vary to accommodate conditions.
Free Yster SUP Expedition Dry Bag 60 - SUPdriven Expeditions Edition
Pack your belongings like a Pro.
An Yster SUP Expedition Dry Bag 60 – SUPdriven Expeditions Edition valued at 109 EUR is included in the expedition price. The 60 L waterproof bag will be mailed to you after your full payment has been received. Limitations for some locations may apply. This will help you gauge the amount of personal belongs you pack. Just leave a little room for your sleeping matress.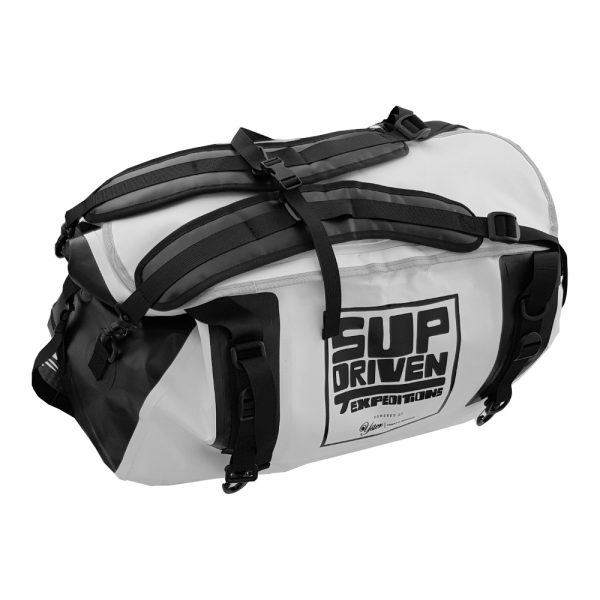 Itinerary
Day 1
This is one of the most exciting days as we all gather at Byns Camping at Ekshärad and finally get to meet your new best friends. We hope you can arrive by 5pm at the latest so that the Guides can welcome you, help you find the best spot for your tent and you can attend the expedition briefing before dinner.  If you arrive early you have the possibility of doing last minute stock up of snacks, visit the majestic wooden church from the 1680's and take a stroll back through time in the open-air museum. (And don't worry, if you arrive too late to take in this slice of Swedish history you can budget some time for it on the departure day).
Day 2
Launch day is just the best. With a nod towards minimizing our environmental footprint we'll jump on the public bus and head up the river to our launch site. You'll meet your soon-to-be beloved SUP boards. After a locally sourced picnic in a riverbank meadow, we'll glide off down the Klarälven. Wild camping awaits us. 
Day 3
No doubt you'll wake up raring to go. We have around 20km to cover today, now that we are old friends with the river and each other. If we are lucky we can sneak in an amazing hike traversing 100 year old wooden bridges, high waterfalls and ruins from 16 to 18th century. Don't forget your swim suit and we'll have something yummy with us. Back on our boards we'll have time to reconnect with the water before arriving at our campsite with facilities. Ready for a warm shower? 
Day 4
Today we paddle and paddle. There will be no shortage of sandy beaches and a new view around every tight bend of the river. We are pretty sure that Bikini Island won't disappoint. Tonight's wild camp will transport us back in time making us feel like we are the first explorers of this land. 
Day 5
The paddle "home" always comes with lots of mixed feelings.  Luckily we have lots of kilometers to get under our paddle and that Blue Mind state of being will charge us to go on and on. We will have our last glide down the river, ending back at Byns Camping at Ekshärad.  Here you can grab a shower and maybe put on some clean clothes before we head into town for "the Last Supper" together. Has that cold drink ever tasted so good?  
Day 6
Today it's time for us all to say vi ses (see you) instead of good-bye! Make sure you haven't missed the beautiful landmarks in Ekshärad before you hop on the bus back to Karlstad and onwards. 
Accomodation
Nature is our home; tents are our places to sleep. Each person has their own two-person tent, meaning you have plenty of room to spread out and rummage through your belongings. Of course, couples or friends are welcome to share a tent if they want. Camping spots will be rustic, varying from completely wild camping to more established camps with limited facilities. You'll get to use the wooden shack with heart in its door or a simple toilet. You will get to practice the Scandinavian tradition of summer bathing in the river some days; other days there will be a hot shower waiting for you. Drinking water will be carried by the group, we'll refresh whenever possible. 
What's included
During the trip we supply the following:
Kick ass guides
SUP board: Yster ISUP 14'x 28" Linear. The ultimate touring board.
Paddle: Yster SUP Paddle Variable 3-piece Full Carbon Soft Flex 86
Leash: Yster SUP Leash 12'
Additional luggage straps
PFD: Baltic iFloat SUP Buoyancy Aid
SUPdriven Individual tent, 2-3 person size with 3000 mm water column. The tent is large for two persons.
Inflatable insulated mattress. *Bring your own sleeping bag suitable to around 5C*
Yster SUP Expedition Dry Bag 60 – SUPdriven Expeditions Edition for your expedition gear to keep.
Cooking gear
Spade – for, you know…
Meals
Unlimited coffee and tea, drinking water.
Photo documentation of unforgettable memories.
What's not included?
The following items are not included:
Transportation to/from our start and end points.
Personal belongings – we will email our recommended packing list.
Sleeping bag and pillow
Waterproof day pack for your snacks, change of clothes, phone, etc.
Dinner and drink(s) on the last night together at the village of Ekshärad.
Snacks – our experience is that people are happiest meeting their own snacking needs.
Alcohol – If you want to bring something to drink we remind you that Sweden strictly regulates the sale of alcohol, and you can only buy it in government owned stores. Meaning if you want to bring something with you don't leave it to the last minute! On www.systembolaget.se you can find a store near you or alternatively you can buy something in duty free.
Getting here and away
We will start and end in the village of Ekshärad hanging over the Klarälven river. We would love you to arrive by 5pm at the latest so you have time to attend the important expedition briefing and we wouldn't want you to miss the BBQ! 
There are buses from Karlstad Central Train Station. Karlstad is a medium sized town beautifully situated sitting on the banks of the Sweden's longest river and Sweden's largest lake – worth a visit in its own right! (And also, some beautiful paddling options to indulge in if you just can't get enough.) You can easily reach Karlstad with an express train from Stockholm or Oslo.
The last day is actually a morning, which gives you time to explore the iconic Swedish village of Ekshärad or hoping on the early bus back to Karlstad. 
Requirements
The River Expedition requires a good level of fitness and paddling skills. It is suitable for the experienced paddler who is used to doing many hours on their board, or for an adventure paddler who wants to take the average experience up a notch.  We will paddle between 17-26 kms a day on flatwater conditions, at times against a headwind but the river will provide some extra speed to our boards. Find the full requiements here.